You're invited to the GMS 6th Grade Band preview concert at 6:30 PM on October 17!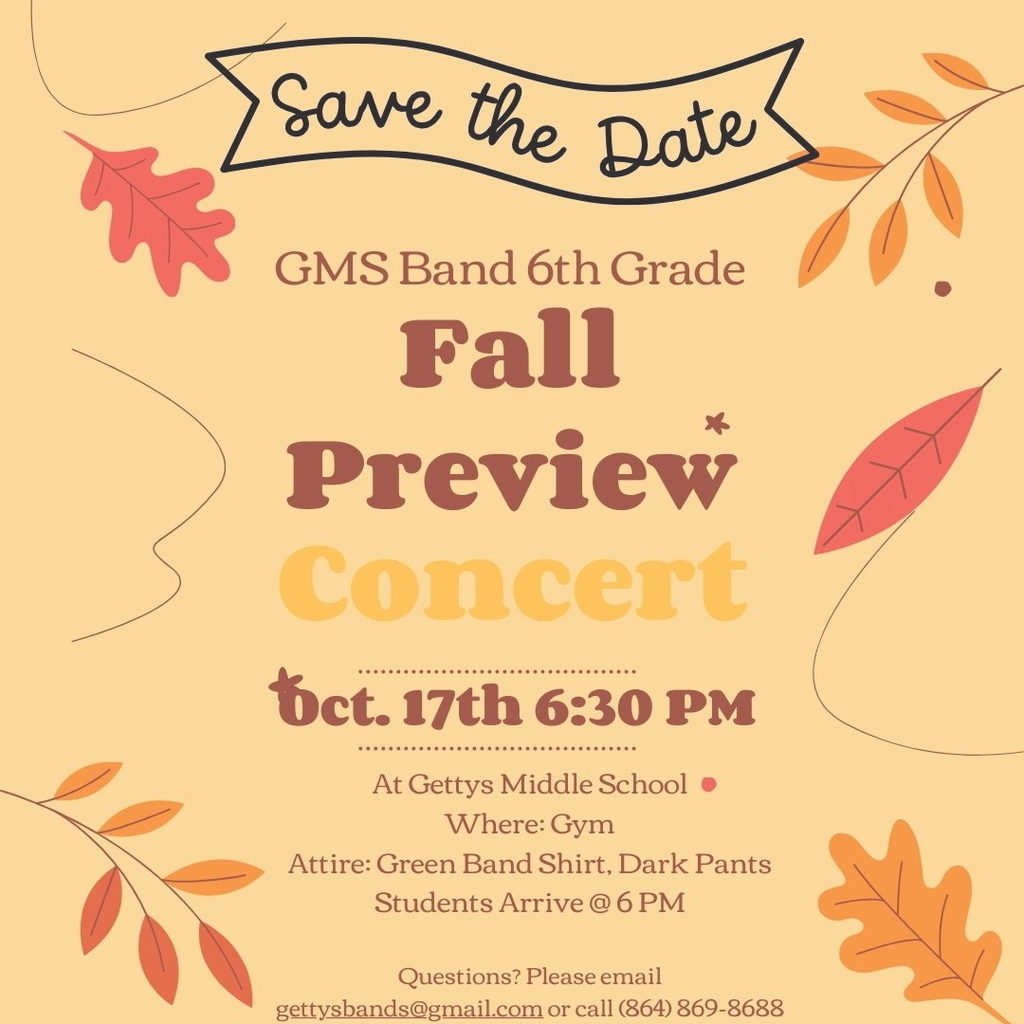 Celebrate Spirit Week Sept. 25-29. Pep Rally Sept. 28!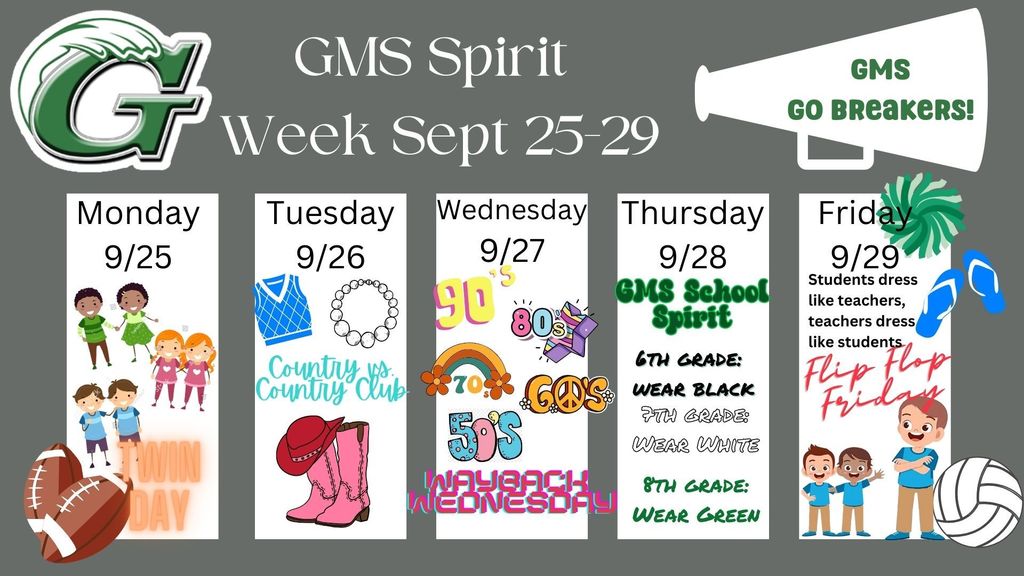 Be sure to save the date for the Miss GMS Pageant on March 23, 2024! CORRECTION: There will be a Theme Reveal / parent meeting at 6:30 PM on November 14 (not November 1) .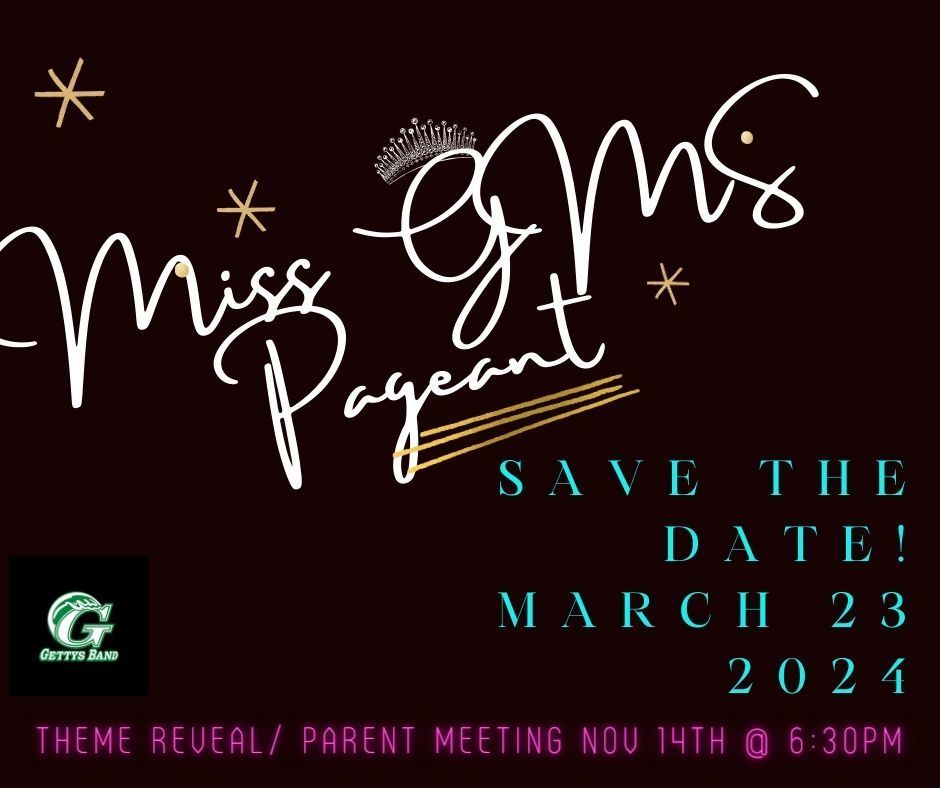 The Cheer Camp scheduled for September 16 has been postponed. A new date will be announced when it's been rescheduled.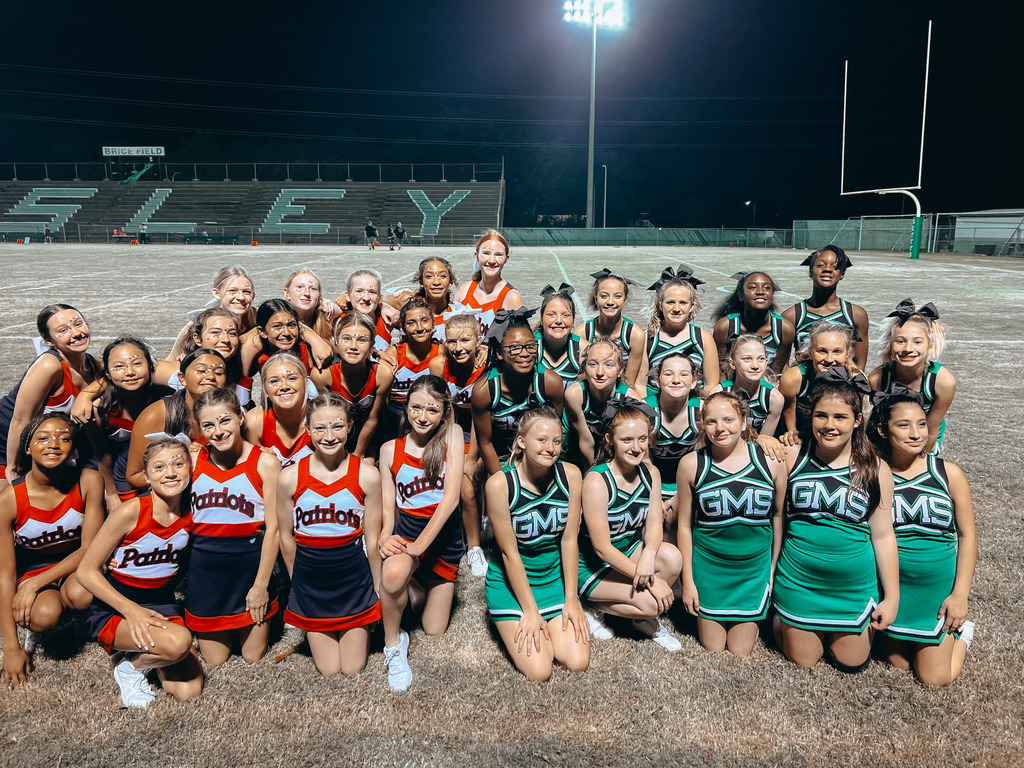 THE GMS BLACKOUT FOOTBALL GAME starts at 5:30 PM at GMS. This game will honor the late Officer Matthew Hare, who played for the Breakers. Come show your support tonight by wearing black. 7th grade plays at 5:30 with the 8th grade game to follow. Admission is $6.00.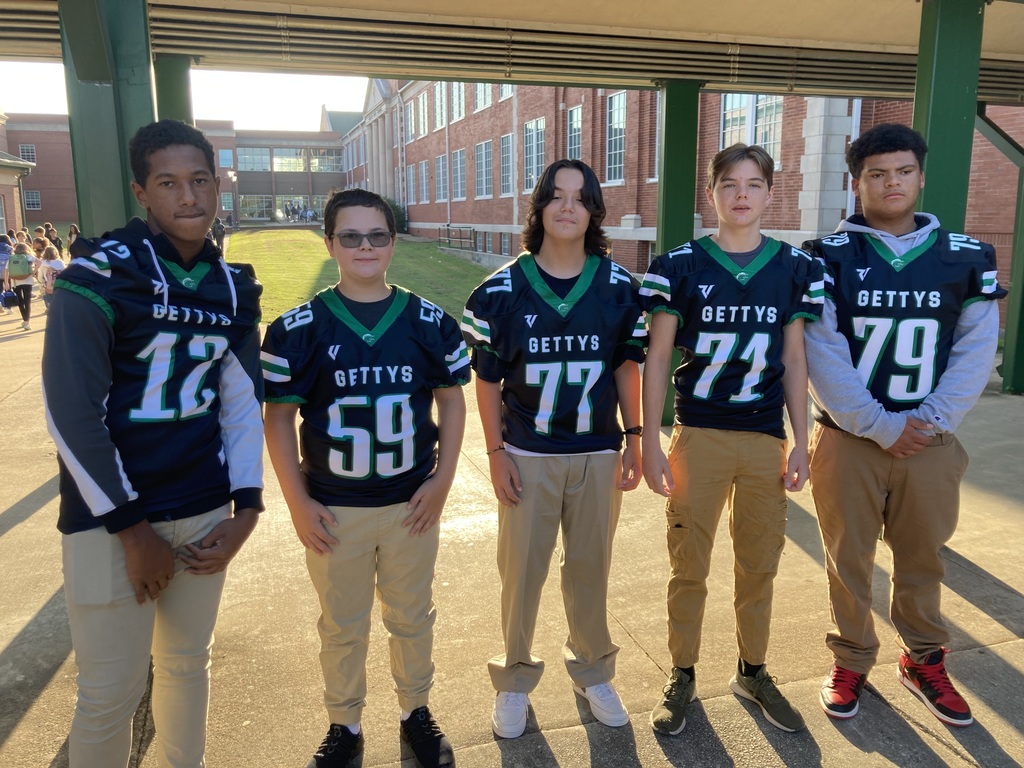 There will be a GMS Band parent meeting today at 7 PM in the auditorium. Instrument rentals will be available from 4:00 to 6:30 in the band room.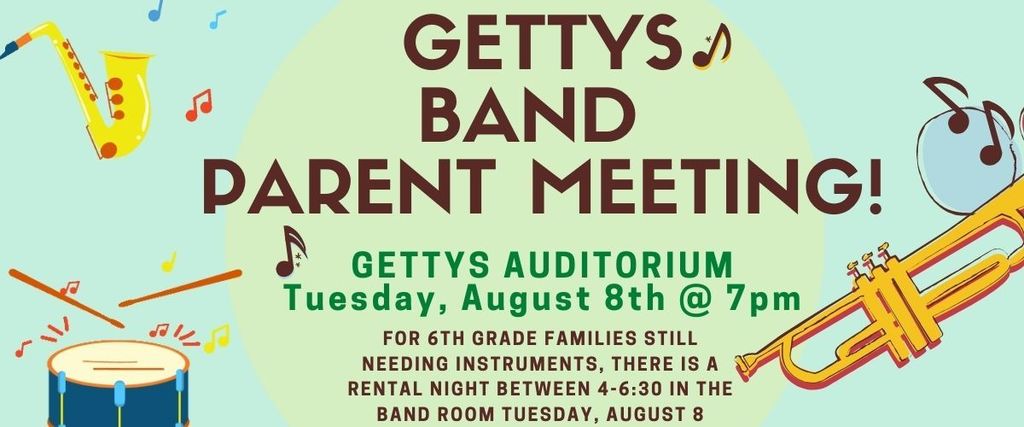 Good Afternoon Gettys Families, I am so grateful for the opportunity to serve alongside our teachers, staff, students, and community as principal of Gettys Middle. This is truly a special place, and I look forward to getting to know our families as we work together to help our students be their best selves! I'm sharing information regarding our Meet the Teacher event on July 27th. I hope to see you there! Thank you, Jacob Nelson Principal, Gettys Middle School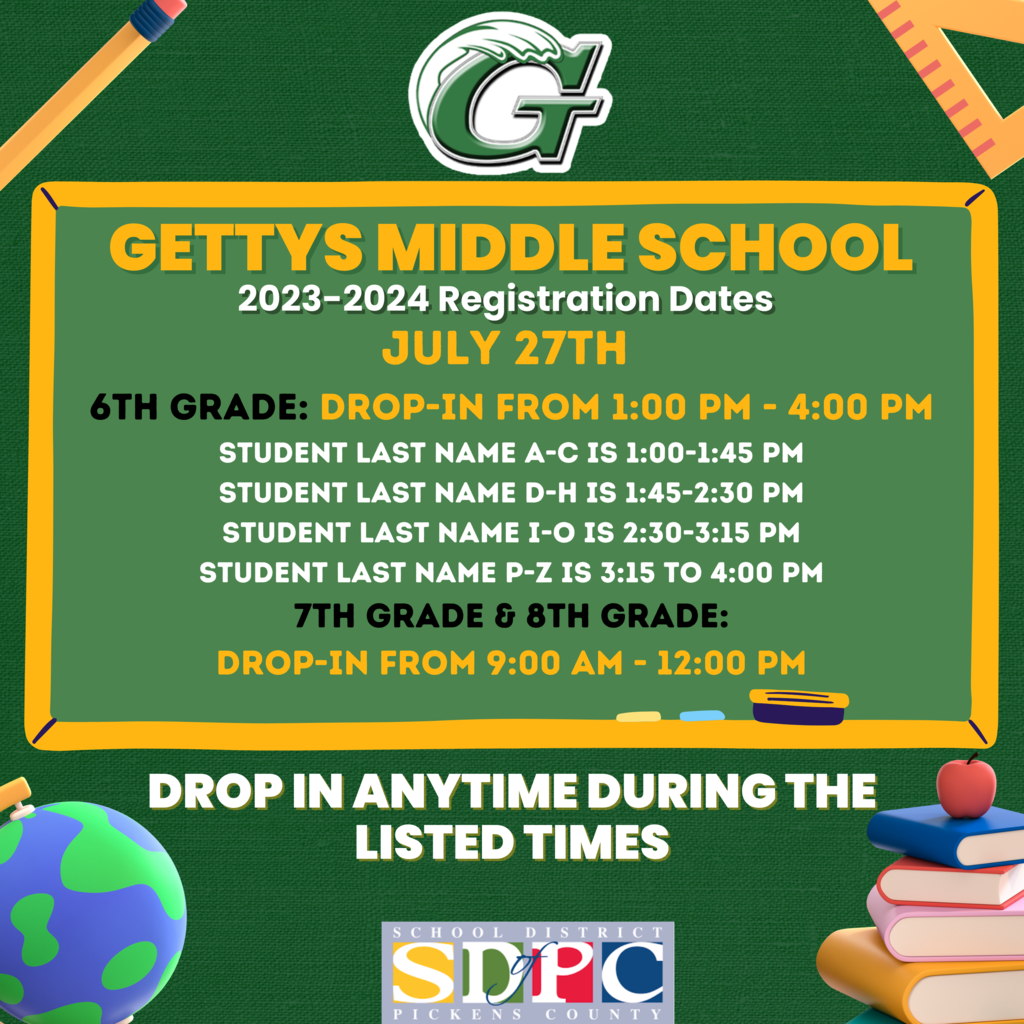 ***Update*** Get ready to jump, cheer, and tumble at our exciting one-day summer cheerleading camp! Join us on September 16th from 12:00 PM to 3:00 PM for an action-packed day filled with cheerleading fun. The camp will take place at Gettys Middle School, and we can't wait to see you there! 📅 Date: September 16th ⌚ Time: 12:00 PM - 3:00 PM 📍 Location: Gettys Middle School Gym During the camp, our dedicated and experienced cheerleading coach will guide participants through a series of energetic activities, teaching them cheers, chants, and dance routines. It's the perfect opportunity for aspiring cheerleaders to enhance their skills and have a blast with friends! But the excitement doesn't stop there! At 3:30 PM, we invite all parents and guardians to join us for a special parent showcase. Our talented athletes will proudly demonstrate what they have learned during the camp, showcasing their newfound cheerleading skills. Prepare to be amazed by their spirit and enthusiasm! Registration for the camp is now open, and the cost is $50 per participant. This fee covers the cost of snacks, drinks, a group picture to commemorate the day, and a stylish cheer bow to add a touch of cheer to your ensemble! Spaces are limited, so make sure to secure your spot ASAP! To register, please scan the QR code on the flyer, or visit My School Bucks. Don't miss out on this exciting opportunity to have a fantastic day of cheerleading fun and create lasting memories. We can't wait to see you at our one-day summer cheerleading camp on September 16th! Get ready to cheer, dance, and tumble your way to an unforgettable experience! For any inquiries or further information, please contact Coach Morgan at
gmscheerleadingcoach@gmail.com
. Let's cheer our hearts out together! 🎀📣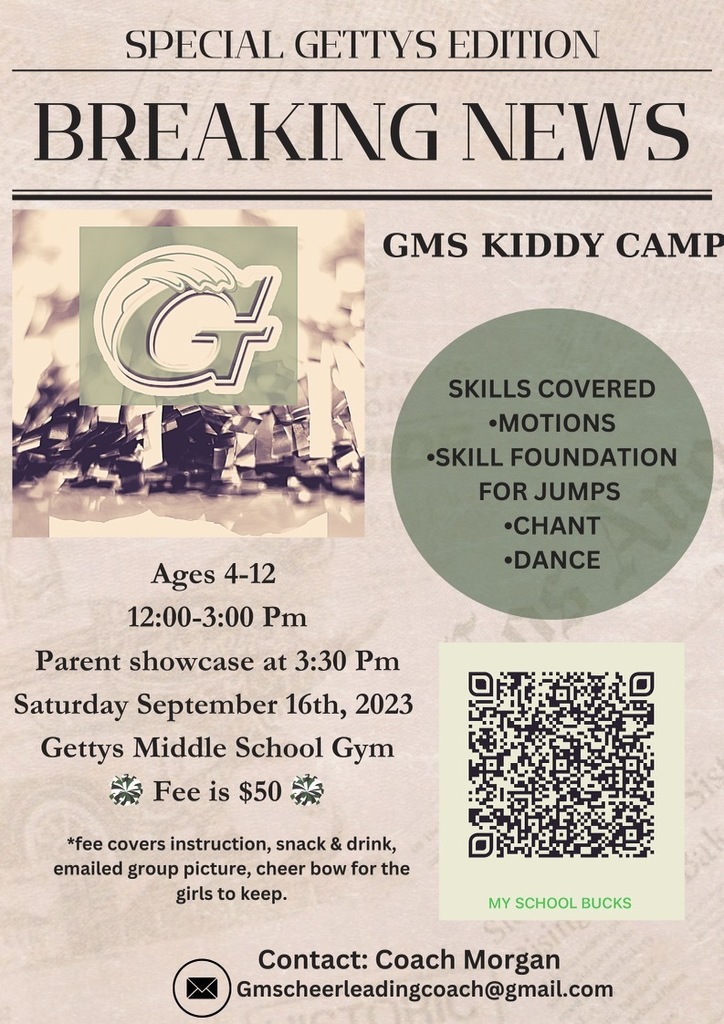 🏀 Boys and Girls Basketball Skills Camp Announcement 🏀 Join us at Gettys Middle School for an exciting basketball skills camp! Whether you're a seasoned player or just starting out, this camp is designed to enhance your skills, improve your game, and have a blast on the court! 📅 Dates: July 10th - July 13th ⏰ Time: 6:00 PM - 8:00 PM 📍 Location: Gettys Middle School 🎯 Who: Boys and Girls in 3rd to 8th grade 🎟️ Cost: Only $30 At this camp, our experienced coaches will focus on individual skill development, team building, and fostering a love for the game. We'll cover fundamental drills, strategy sessions, and fun competitions to keep the excitement going throughout the week. Don't miss out on this amazing opportunity to improve your basketball skills, make new friends, and have a great time! Spaces are limited, so register now to secure your spot. To register, please complete the online registration form:
https://docs.google.com/forms/d/e/1FAIpQLSc738p00BpuBpIURe-9wPrN0daMcgPTzvmGrD8LoCuzF_OjPg/viewform
Spread the word, invite your friends, and let's make this summer basketball camp an unforgettable experience! 🏀🔥 #BasketballSkillsCamp #GettysMiddleSchool #HoopsFun #SkillsDevelopment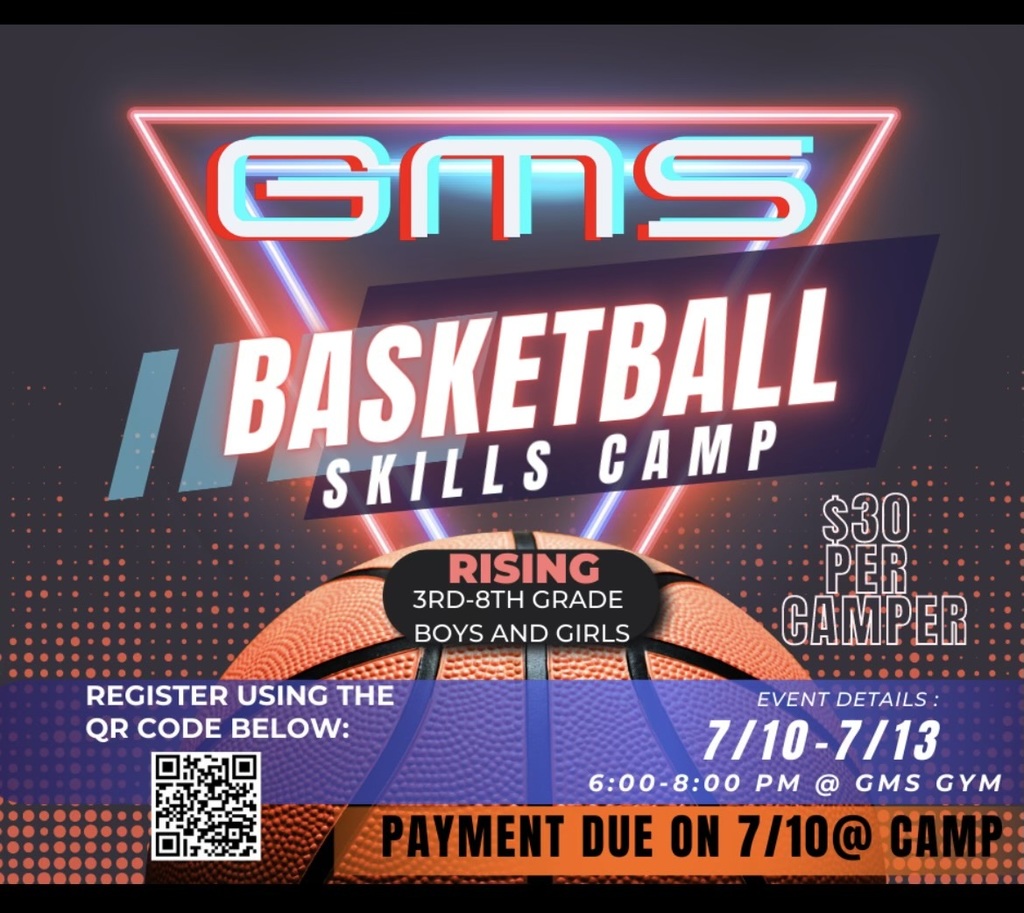 SDPC ONLINE REGISTRATION CURRENTLY UNAVAILABLE THROUGH JULY 10, 2023 - The School District of Pickens County is making a transition to a new online registration system called FinalForms during the summer of 2023. The registration sites (linked below) will be unavailable until July 10, 2023. This includes the New Student, Back to School, and Express Update sites.
https://www.pickens.k12.sc.us/page/online-registration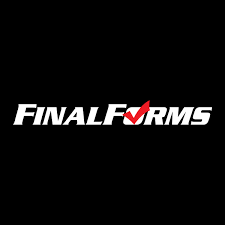 Attention all aspiring basketball players! Get ready to lace up your sneakers and show off your skills on the court. We are excited to announce the start of girls basketball workouts at Gettys Middle School! 📅 Date: Starting June 5th ⏰ Time: 1:00 PM - 2:30 PM 🏢 Location: Gettys Middle School Gymnasium These workouts are open to all rising 7th and 8th grade girls who are passionate about basketball and eager to improve their game. Whether you're a seasoned player or new to the sport, this is the perfect opportunity to enhance your skills, build teamwork, and have a great time! Please note that all participants must have an up-to-date physical in order to join the workouts. We can't wait to see your skills shine and witness the amazing potential within our talented group of athletes.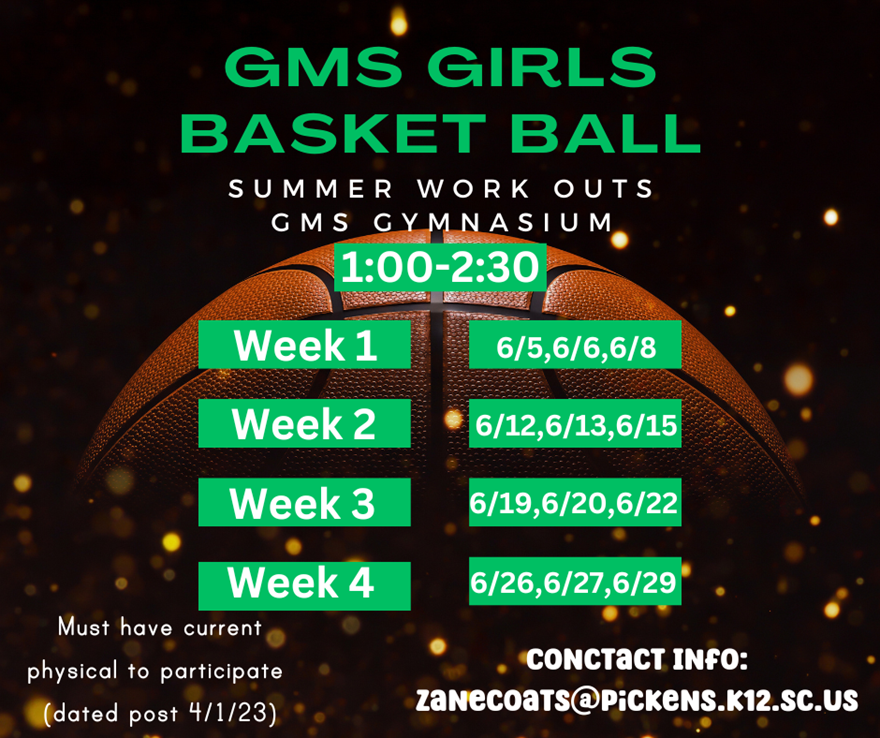 We value our dedicated teachers and Gettys Middle awarded four teacher scholarships beyond their district salary to help offset the increasing costs of college loans and advanced degrees. Through the generosity of an anonymous donor of The Gettys Middle School Teacher Loan Award, four staff members were chosen by the award's committee and we congratulate: Mrs. Bishop, Dr. Hall, Mr. Holliday and Ms. Smith on receiving $1,250 each. #GettysGreatness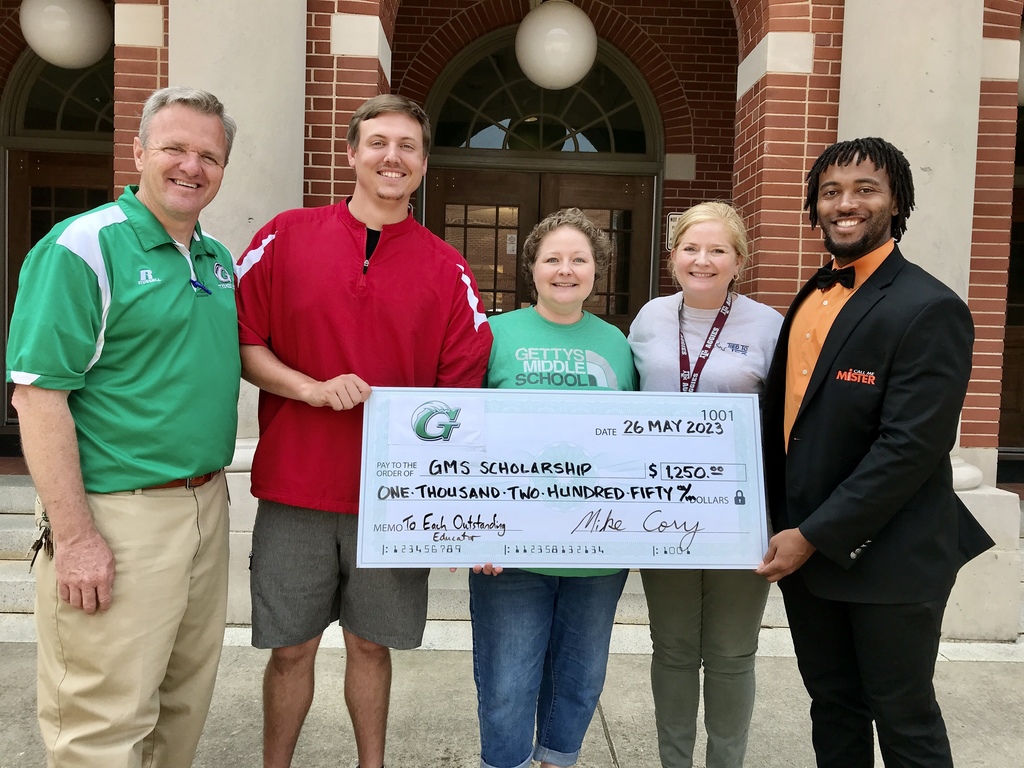 We are thrilled to announce that we have found an exceptional individual to lead our 8th Grade Girls Basketball team at Gettys Middle School. Please join us in warmly welcoming as our new coach, Coach Ross! With a proven coaching style that emphasizes teamwork, skill-building, and sportsmanship, Coach Ross is committed to creating a positive and supportive environment for our athletes. Their expertise and leadership will undoubtedly inspire our players to reach new heights and achieve success.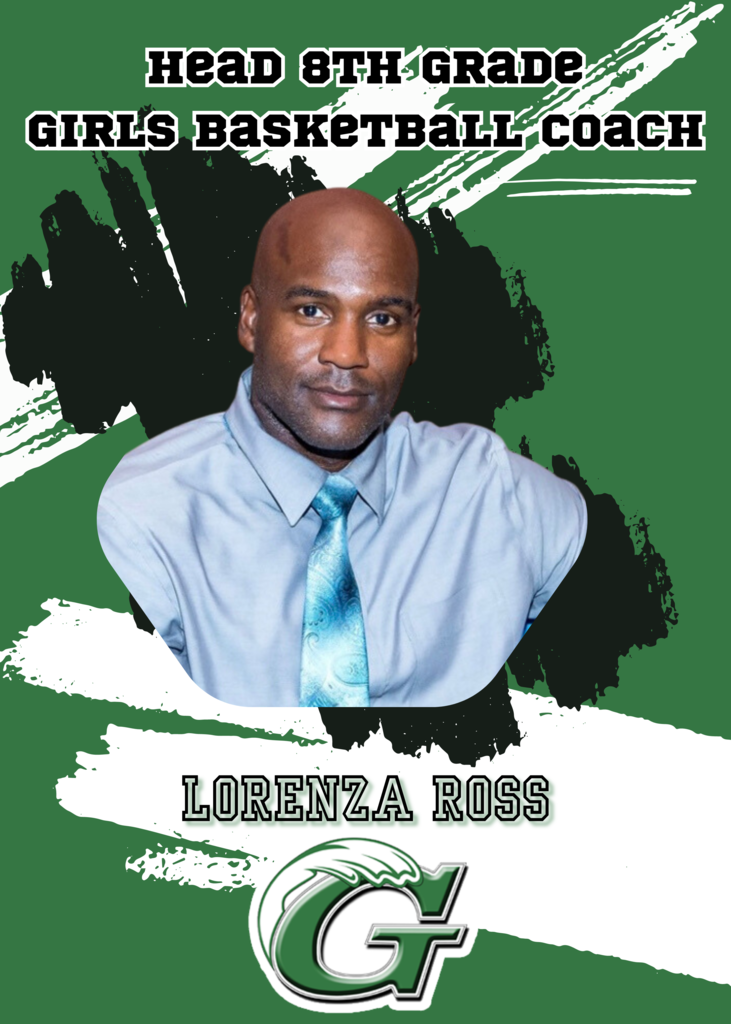 We are thrilled to announce that we have appointed a new Head 7th Grade Girls Basketball Coach for our esteemed school! Please join us in warmly welcoming Coach Coats to the Gettys Middle School family. Coach Coats brings a wealth of experience, expertise, and a genuine passion for basketball to our program. Her dedication to cultivating a positive and inclusive team environment, along with her commitment to developing players both on and off the court, made her an exceptional candidate for this role. We are confident that her leadership will inspire our athletes and contribute to the continued success of our girls' basketball program.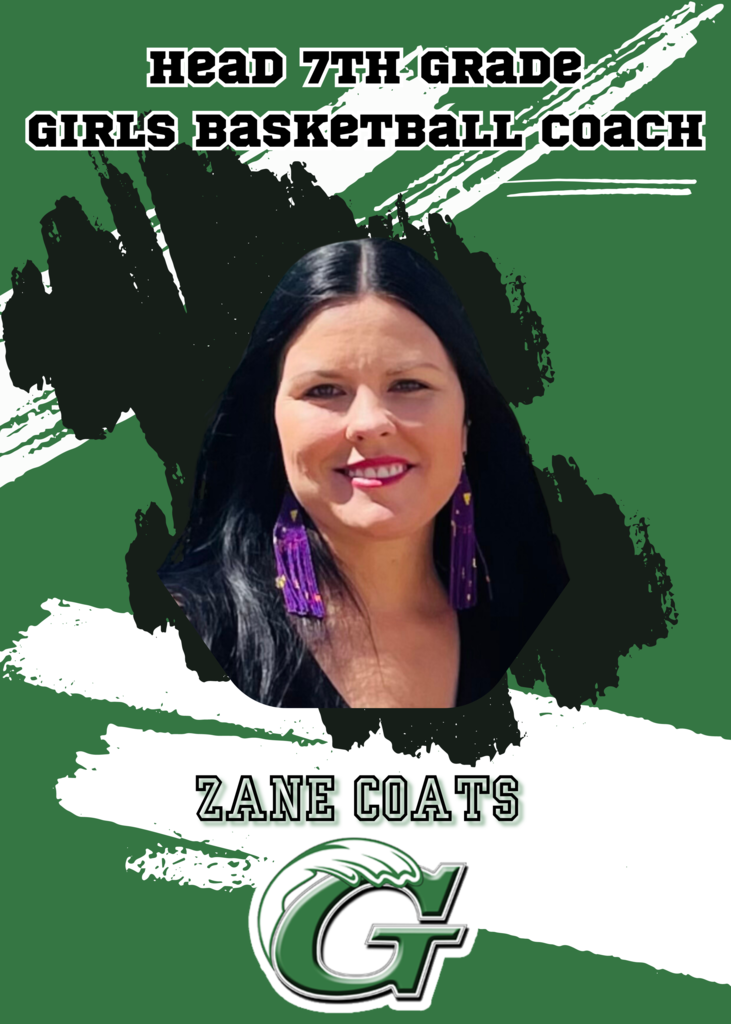 We are excited to announce that summer workouts for the boy's basketball team will be taking place in the upcoming month of June. These workouts are a great opportunity for our rising 7th and 8th graders to stay active and improve their basketball skills during the summer break. The workouts will be held on Mondays, Tuesdays, and Thursdays from 5:30 pm to 7:30 pm. Our dedicated coaching staff will be leading these sessions, focusing on skill development, team building, and conditioning. It's a fantastic chance for our athletes to sharpen their basketball abilities and prepare for the upcoming season. Please note that in order for your child to participate, they must have an updated physical on file with the school. The physical must be dated after April 1st, 2023, ensuring the safety and well-being of all participants. If your child's physical falls outside this timeframe, we kindly ask that you schedule an appointment with your healthcare provider to obtain a new one. Thank you for your continued support, and we look forward to a successful summer basketball program.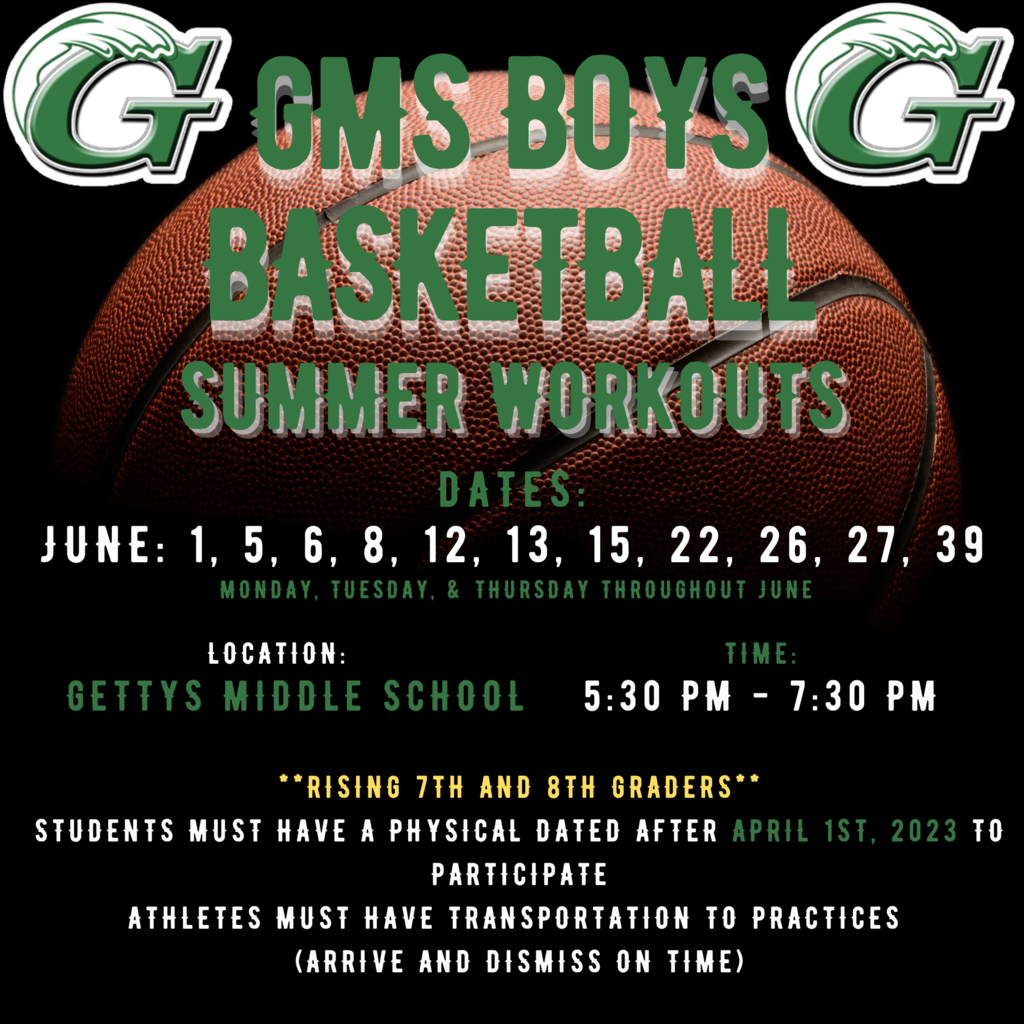 Gettys Robotics brings home the Build Award from the Vex World Championship! The 2023 VEX Robotics Season began with over 6,500 teams worldwide competing but less than 500 of the teams in the middle school division qualified to compete at the World Championship in Dallas, Texas. Our team had the opportunity to compete with teams from all over the country, and the world, including Michigan, Tennessee, Alabama, North Carolina, New Jersey, New York, West Virginia, Missouri, California, Australia, and even Beijing, China. Team 77240G finished 34th in our division, having one of our best seasons in school history. We ended the season on the Top 150 in the world in Skills. While at the World Championship, Coach Tharpe and his students: Calder Adams, Kathrin Patterson and Wyatt Reeves earned the coveted Build Award. This award recognizes a well-constructed robot that is constructed with a high degree of attention to detail in order to hold up to the rigors of competition. This was the ONLY award earned from any team from the state of South Carolina. This team also earned the first ever Tournament Champion at the SC State Championship. Congratulations to our award-winning STEM students and teacher!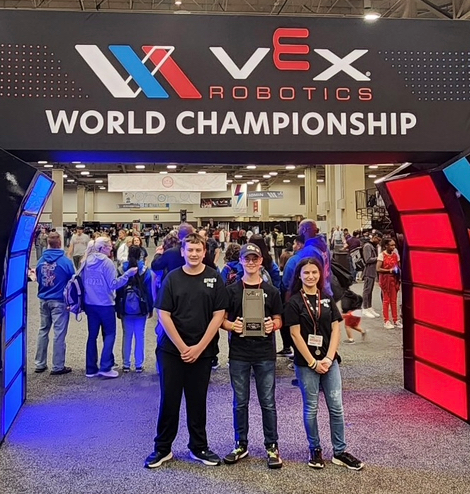 The Fort Prince George Chapter of the National Society Daughters of the American Revolution honored 8th grader, Katherin Patterson, for her outstanding work in American History. Making the presentation was Dianne M. Crooks, American History Chair, DAR. Katherin's 8th grade Social Studies teacher was Mr. James. Congratulations!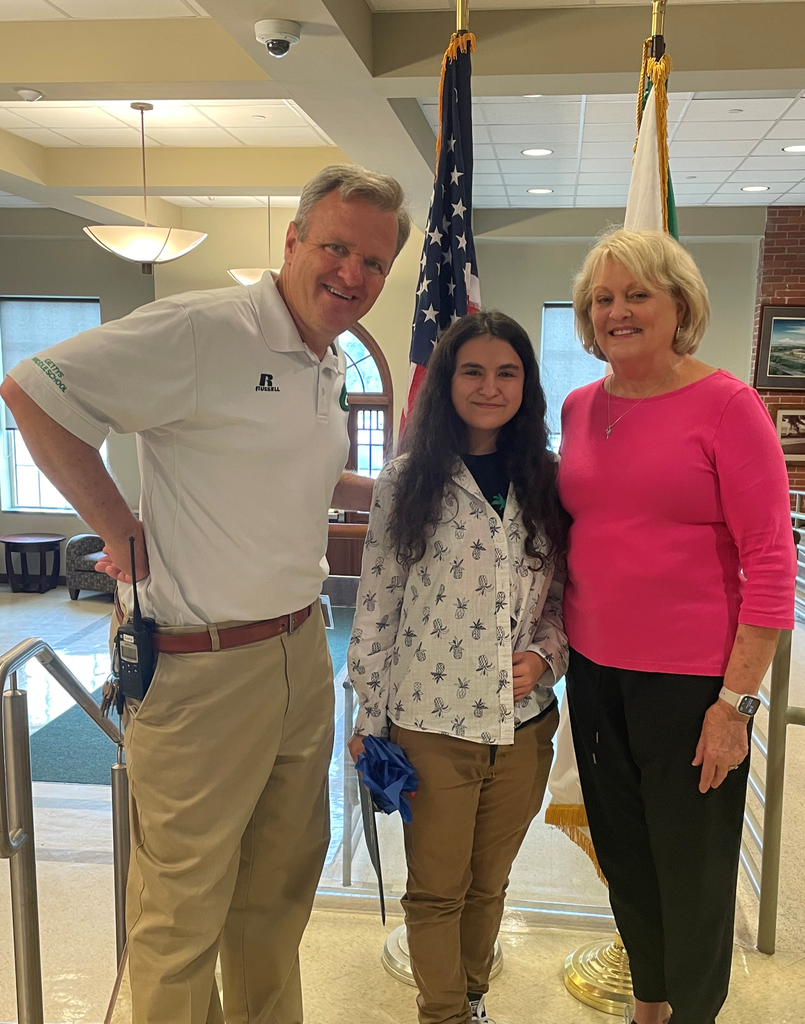 Our Strings students went to Dollywood and participated in the Trills & Thrills festival. The students performed for a panel of judges before going to enjoy the park at Dollywood. Our Strings brought home a Superior rating! Ms. Atkins is so proud of these students! Congratulations students and thank you to all family members that supported our student's field trip.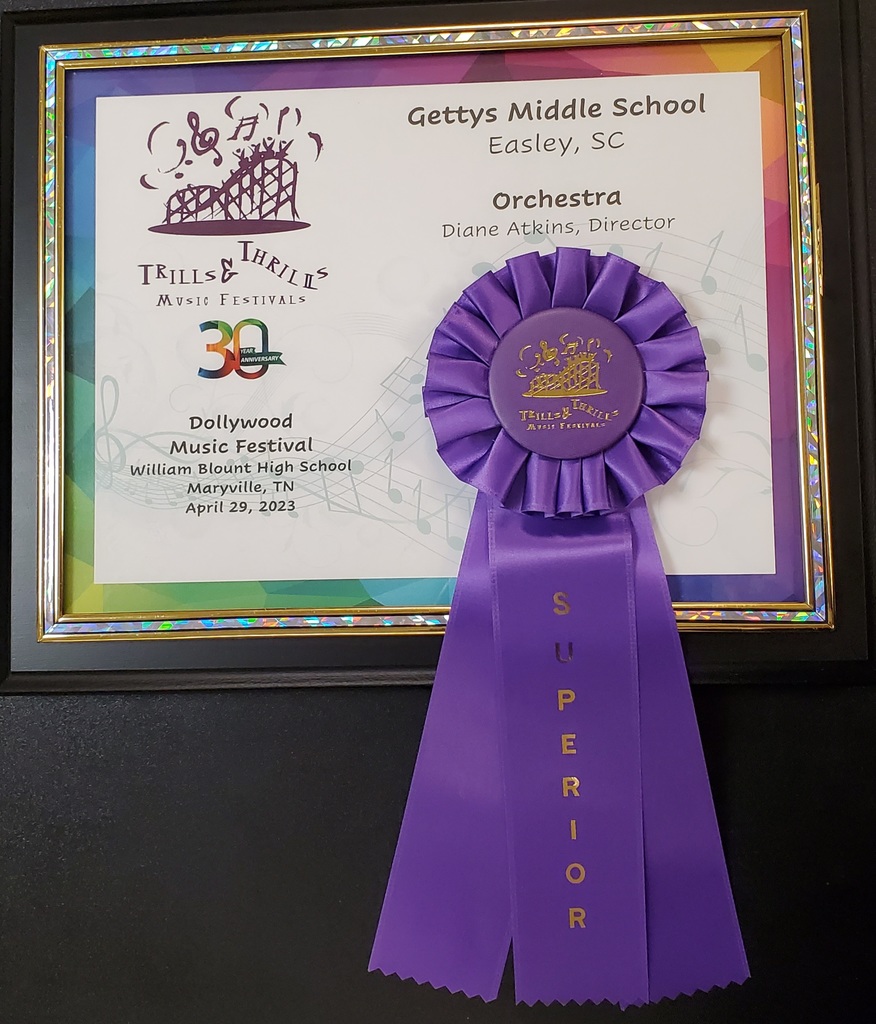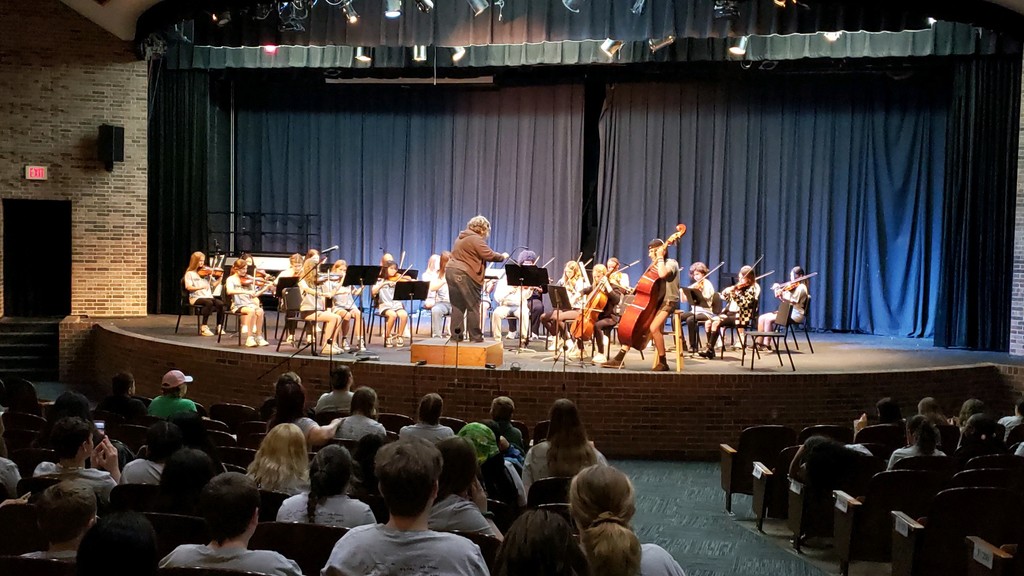 Attention all aspiring cheerleaders! Are you ready to show off your skills and become a part of our team? We are excited to announce that cheerleading conditioning is happening now! We are looking for energetic, dedicated, and talented athletes to join our team!
Attention all basketball fans! We are excited to announce that our middle school basketball teams will be hosting a jersey sale during lunches starting TOMORROW! The goal is to raise funds for the upcoming season. This is your chance to show your support for our team while snagging a stylish and comfortable basketball jersey. This is a first come first serve fundraiser including both boy and girl uniforms. Not only will you look great in one of our jerseys, but you'll also be supporting the Gettys Middle School basketball teams as they work towards their goals for the season. Every purchase goes towards supporting our team, so be sure to stop by during lunch and grab a jersey for yourself or a loved one.