For the second quarter of "Dr. Roach's All-Star Writing Contest," five academic teachers submitted student work: Mrs. Konczal, Mrs. Stubblefield, Ms. Rodriguez, Mr. Adams, and Mrs. Lambright.
The winners this nine weeks received a star trophy and other prizes.
1st place was a three-way tie between Kyndal Lee, Mya Mickelboro, and Nevaeh Humphrey for their personal narratives written with Ms. Rodriguez and Mrs. Lindner in English Language Arts. These pieces were all so well-written and descriptive that it was impossible to choose just one winner!
2nd place was awarded to Wyatt Reeves for his character analysis, written in Mrs. Lambright's English Language Arts class.
3rd place went to Leilani Gonzalez for her exemplary explanatory writing demonstrating how to solve two-step equations for Mr. Adams' math class.
The following students were awarded with honorable mentions and will also have their work displayed:
Axel Myers
Colden Trotter
Jaden Holcombe
Abigail Wade
Joby White
Natalia Hernandez
Reagan Appenheimer
A special congratulations to Nevaeh Humphrey and Abigail Wade, who have been recognized in both the 1st and 2nd quarter for their writing. Abigail has two pieces displayed this nine weeks!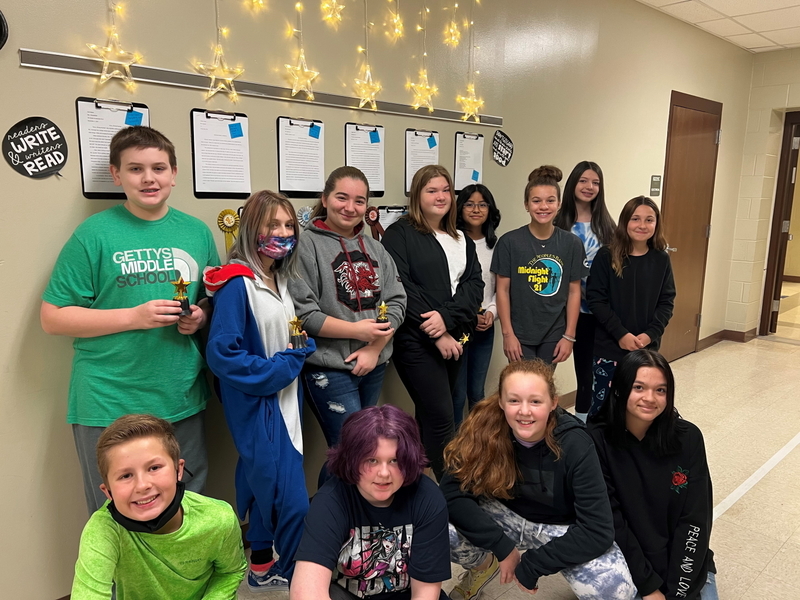 #grade7shines #gettysgreatness